Big Family Camping

 Perfect for Couples

 Off-Road Glamping

 Presidential

 Pristine Trade-ins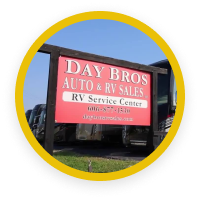 About Day Bros RV
Day Bros RV is your number one RV destination in Kentucky. Day Bros RV London specializes in New and Used motor home sales.  You'll find motorhomes of all sizes, price ranges, and brands, including Diesel Pusher RVs for Sale, Class A RVs for Sale, and Class C RVs for sale.  Day Bros RV in Monticello caters to towable RV buyers, with a large selection of new and pre-owned Travel Trailers and Fifth Wheels. 

Both Kentucky locations of Day Bros RV provide premier services and exceptional pricing on a huge selection of towable RVs from America's favorite brands.   And we're a full-service RV dealership, offering RV Financing, RV Parts and RV Service.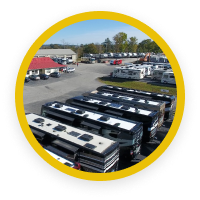 About the Experience
Since 1995 Day Bros RV has grown from being a small pre-owned Auto and RV dealership with one service bay to one of Kentucky's premier RV Sales and Service Centers with two locations (in London and Monticello), plus 14 service bays.

Our business model is simple: Provide quality information and exceptional service while providing the largest selection of the world's most popular RVs and selling them for less money than the competition everyday!

We hope you'll visit Day Bros RV Sales soon and see firsthand what makes Day Bros RV Kentucky's favorite RV Dealer.
Deals of the week
Large U-shaped Dinette!

MSRP:

$32,490

Save:

$8,590

Sale Price:

$23,900

Large U-shaped Dinette!

MSRP:

$45,411

Save:

$12,512

Sale Price:

$32,899

MSRP:

$56,286

Save:

$22,387

Sale Price:

$33,899

Feels Like Home!

MSRP:

$68,619

Save:

$18,719

Sale Price:

$49,900

List Price:

$65,665

Discount:

$50,766

Our Price:

$14,899

List Price:

$94,470

Discount:

$34,571

Our Price:

$59,899

MSRP:

$106,965

Save:

$34,066

Sale Price:

$72,899

List Price:

$39,223

Discount:

$11,324

Our Price:

$27,899

MSRP:

$72,490

Save:

$27,590

Sale Price:

$44,900

Panoramic Windshield!

List Price:

$103,674

Discount:

$63,774

Our Price:

$39,900

List Price:

$157,457

Discount:

$94,557

Our Price:

$62,900

List Price:

$192,585

Discount:

$98,686

Our Price:

$93,899

List Price:

$182,850

Discount:

$67,951

Our Price:

$114,899

MSRP:

$261,885

Save:

$101,986

Sale Price:

$159,899

List Price:

$193,708

Discount:

$123,809

Our Price:

$69,899

List Price:

$183,331

Discount:

$73,431

Our Price:

$109,900
New To RVing?
There is a whole world of vehicles to suit all families and trips, and exploring your options is vital to understanding what you want out of your RV experience.
What Our Customers Are Saying
Feel like Family
We came all the way from California, because we saved close to $25,000 dollars on our 5th wheel 2019 Coachman Chaparral.. Everybody was so helpful and such a pleasure from the sales staff, especially Josh McKay, to the Service department especially Jessie and also too the finance department especially Danielle. I highly recommend for first time or even experienced RVers, this is the Company you want to work with. They go the extra mile.
Fantastic to work with!
Stumbled upon Day Bros RV Sales as my husband and I were looking for a tag along to stay in while our house is being built. By far the most reasonably priced camper we could find new or used. We live in North Carolina and they delivered right to our door from Kentucky! Salesman was great to work with as we purchased it via phone and internet. If you are looking for a new camper, they are the dealership for you.
I did not purchase my RV from Day Bros because at the time I lived out of state. My experience has been only with their service department. In my opinion you will never receive better service than that provided by Matt and his crew. Because of the excellent service department any future RV purchases I make will be from Day Bros!
Welcome to Day Bros RV Sales
If you are looking for a great deal on an amazing RV from a dealership you can trust, you have come to the right place here at Day Bros RV Sales! As a family dealership with family values, we are committed to providing our consumers with the best possible value. While some competitors sell at Manufacture Suggested Retail Price (MSRP) or slightly below, we offer year-round discounts well below MSRP. To help you shop, MSRP sheets are available upon request for any new model.
To truly understand how much Day Bros RV can save you, all you need to do is browse our current inventory and check out the huge percentage discounts you'll find on our entire selection of luxury motor homes as well as fifth wheel & travel trailer RVs. Whether you are seasoned RVer or first time RV buyer looking for quality information, Day Bros RV will treat you fairly. Our upfront pricing will take the games, gimmicks and anxiety about paying too much out of the buying process. At Day Bros RV, we believe that everyone deserves the same low price.
We offer the most diverse selection of new & used motor homes in Kentucky with prices ranging from around $10,000 to over $500,000+. You'll find several different models from the most well known manufacturers in the RV industry. Each manufacturer is committed to producing quality products and offering something distinct and different in both style and function. No matter what RV you want to go with, we are here to make it a reality! So, make sure that you contact us today for more details.